Join us for our first alternative assets event this September
Some would argue that uncertainty has a greater impact on the property market than even political policy. This month, we've been exposed to both in an uncomfortable quantity. Yet, while the mainstream markets wade through the quagmire, alternative asset markets are enjoying their heyday. From student housing and retirement living to PRS and 'micro living', investors are opting for emerging high-yield markets to bypass stalling sales and event companies like ours are meeting the demand for discussion.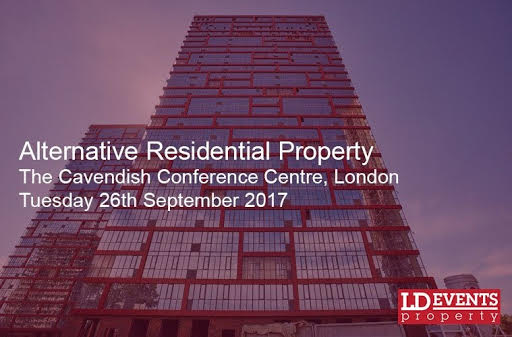 Reasons for rapid growth
It's safe to say that there is a change in the air. Growth in alternative asset classes has coincided with a mass selloff of domestic shares - at the highest rate on record - in Q1 of 2017 to opt for short-term asset investments as uncertainty hit home.
In the student housing sector, for example, investors are willing to pay a premium for assets, driven by a need to allocate funds from elsewhere to scale up their portfolios quickly, according to a Savills report published this May.
There's plenty of scope for investors to do the same in the retirement living sector. As a similar Savills report this May pointed out, the UK's rented sheltered housing stock doesn't meet the needs of even 25% of older households.
This February, we placed retirement housing under the spotlight as a top investment market moving forward. Knight Frank labelled growing demand in the sector as the UK's next housing crisis in 2014 – and little has changed. Again, it feels like housing for older people has been kicked into the long grass as the nation focuses on social care policies and how to fund the crisis.
In every sector, there is a growing gap between oversupply areas and undersupply. Cities like Birmingham, Leeds, Exeter and Guildford with high student populations have become student housing hotspots this year, while undersupplied areas for retirement living stock include Sheffield, Wealden and New Forest. An issue for developers in the sector is attracting buyers for ageing stock, so many are now opting to build shared ownership retirement housing.
Alternative Residential Property Conference - 26th September
Understanding retirement housing, student housing, how these products fit into the residential sector, how these markets work as investment models and what are the crucial priorities are key considerations for today's professionals, which we will be discussing this year.
In a testament to the performance of alternative residential asset classes here in the UK and across Europe, we will be staging an inaugural event devoted to these emerging markets which are rapidly crossing into the mainstream.
Following a sell-out Student Housing Conference this May, which exceeded capacity, we are expecting a large panel to join the alternatives conversation this September. The panel, which includes some of most respected figures and investors in the sector, will share vital market information to take forward into 2018.
Place a booking to secure
Subscribe to our newsletter to receive property market analysis and notifications of networking opportunities to your inbox.