The role of housing associations and the power of partnerships
Could 2017 prove to be a bumper year for UK housing association organisations? According to recent reports, the future for this previously muddled sector could look a bit brighter thanks to renewed confidence by the government and a series of joint venture partnerships to get social housing providers building. Now, Britain's 1,500 housing associations have the capacity to double housing delivery from a total of 30,680 homes in 2016 to a total of 84,000 a year by 2029.
We discuss current market performance, partnership developments in the pipeline and what more can be done to improve output.
Kidbrooke | Source: TFL
---
Current market performance
---
Housing associations were created to be engines for the provision of social housing in the UK. Tony Blair christened housing associations as a crucial link between capitalism and socialism, one which would combine the best of both elements. However, housing delivery between 2000 and 2014 reached an average of 26,000 – half the amount required.
Three years on, housing associations are forging partnerships with a series of private and public bodies to double output, which we will be discussing at the National Housing Delivery Conference 2017 – #HousingDelivery.
---
Partnerships in the fold
---
The latest partnerships address some of the biggest shortcomings in the sector. It is hoped that by introducing outside providers, services will improve and output will increase over time.
Southern Housing Group and The Guinness Partnership have now drafted in Wates Living Space to manage repairs, worth £13m. The contract serves as an extension with Wates, which currently manages 3,777 Guinness homes in the West of England.
London's L&Q has joined forces with Greater London Authority and housebuilder Bellway to construct the Barking Riverside neighbourhood, with a total of 10,800 homes - nine years after planning permission was first granted.
On top of this, L&Q, now worth £12bn, has partnered with East Thames Housing Association to build 100,000 new homes over the next 10 years, while Your Derwent & Solway has merged with Two Castles Housing Association to deliver 7,000 homes across the North of England.
Lambeth & Southwark Housing Association has forged an innovative path with Apex Airspace to create 28 modular homes on existing rooftops, while Notting Hill Housing Association has partnered with Transport for London to build 400 new homes on a former RAF base in Kidbrooke, London.
The above is just a snapshot of how housing association partnerships and mergers could pave the way for a more efficient and productive future, but some of the same challenges that have plagued delivery need to also be addressed.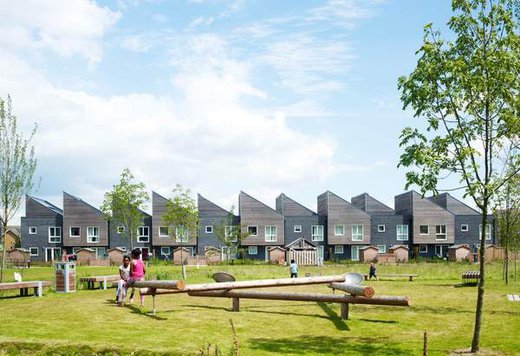 Barking Riverside | Source: Bellway
---
Creating a better environment for HA housing delivery
---
In the 14 years to 2015, UK associations have received £62bn in funding but only delivered half the homes pledged. This was at a time when housing lists were rapidly extending, to a point where one in six households across the UK were waiting for a council home in 2016.
Every so often, momentum builds in the housing association sector, but the organisations often blame a lack of land and torturous planning conditions for developments never reaching fruition.
The money they spend on operation costs – ranging from around 90p for every £1 to more efficient operators who spend just 57p for every £1 – has been called into question, as has the disparity of management costs which are even more stark, ranging from an efficient spend of £541 by provider L&Q, to the sector average of £990, right up the provider Peabody Group which tends to spend £1,229 [2015].
However, others, like Dia Chakravarty from the Taxpayers' Alliance, question whether the sector has been given a chance, and feel that lack of competition, coupled with stringent regulations, is behind the poor performance figures. This February, The Independent asserted that 'after years of being ignored', it has now been embraced by a government not so set on private home ownership.
If the government was to follow the advice from professionals in the field, however, they should rethink or alter:
Proposed changes to supported housing funding
Stringent planning regulations
The planned cap for supported housing at Local Housing Allowance rates in 2019
Rising rent arrears as a result of the bedroom tax
Industry payments into final salary pension schemes, which are now almost extinct in the private sector
And housing associations must do more to:
Reduce management costs by reviewing the business models of some of the most efficient providers
Re-align their objectives to push the goal of housing delivery to the fore
Take advantage of significant advantages in the sector – their place in a community and close access to policy makers and local authorities – to develop new opportunities and reaffirm their importance in the property market
---
Find out more
---
Since 2007, LD Events has offered a competitive advantage to thousands of senior property professionals and investors, through the latest high-level market knowledge, networking and CPD. To learn more about LD Events please click here or review our upcoming event agendas to find out the most important talking point in today's UK property industry.