London property networking: a necessity for success in 2016
Gaining the latest insights and market analysis to succeed against a wave of business challenges has never been more important within the property industry this year. Following the Budget, with its capital gains tax exclusions and higher commercial and residential SDLT, many businesses, particularly in the capital, are reforecasting their numbers. Now is the time to join fellow professionals from around the world to learn more about where the current opportunities for growth are, and the viability of a property strategy, from student housing and care homes, to developing unused sites in the UK.

The year ahead
London's property markets will be dominated by a series of peaks and troughs, largely fuelled by SDLT and the EU referendum in June. Property prices in the capital climbed by £500 a day as investors targeted prime buy-to-let and second properties before the April surcharge. This build up before April was inevitable, and is a more tangible result of policy which was predicted early.
Brexit on the other hand has the industry divided on whether it would affect build rates and construction, with the majority accepting that there may be a short-term slowdown but are still uncertain on its long-term effects. Howard Archer, a UK economist at consultancy IHS Global Insight, said the EU referendum would "likely weigh down heavily on the housing market." However, analyst Anthony Codling, of the broker Jefferies believes that to "the average man on the street, [Brexit] makes no difference." The set of polarised viewpoints has resulted in lively debate, but has undermined business confidence in the industry.
Whatever the result in the summer, the levels of uncertainty that will plague the markets before and after the vote will have a knock-on effect on effect on the construction industry, government spending, and policies in the autumn. All this highlights why industry and networking events should go hand in hand in 2016 to introduce clear industry directions while the referendum build up forges on.
As the integral relationship between the property industry and networking events continues to grow stronger, we expect dynamic collaborations and sector partnerships to be created this year as meetings of minds in London will capitalise on the next set of sustainable growth opportunities.
Gain a competitive advantage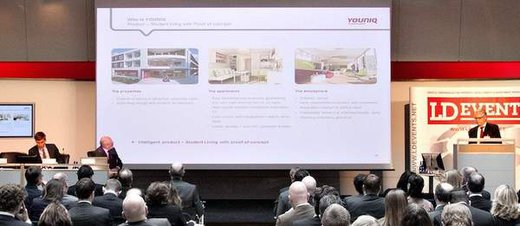 Since 2007, LD Events has offered a competitive advantage to thousands of senior property professionals and investors, through the latest high level market knowledge, networking and CPD. We have a busy line-up scheduled this May:
LD's Site Finding and Development conference on 17 May will address the residential development process as a whole, detailed analysis on viability and planning and where to logically look for sites for development.
Related: 7 Land Issues Which Delay Housebuilding in the UK
Leading players in the development sector will be discussing who is buying what and where in the UK, and the opportunities for land acquisition in London and the regions, at a time of brownfield pilot registers and a £2.7 million boost to improve construction skills in the UK. Conference attendees will address the costs of S106 and CIL, which structures are best used when, and how to work with the local authorities in the morning, followed by a full agenda during the afternoon session.
Following a Budget announcement of a change to Entrepreneurs' Relief, which could benefit London's property startups when attracting investment, we expect a lively debate on how a possible increase of smaller trading companies could find their route to market.
According to Savills' latest World Student Housing Report, English speaking development markets will continue to have a competitive edge in 2016, and with US investment volumes still lagging behind a peak in 2012, the UK is tipped to become the next best mature student market for success. Student Housing 2016 will begin the day with a thorough analysis of student housing as an international investment class, looking at the key issues in the UK and European markets to uncover the next big opportunities for developers and investors.
Related: 5 Student Housing Development Trends in 2016
Representatives from the global companies, including JLL, Knight Frank, Unipol and WCEC Architects, will discuss the industry in its current state and future opportunities to be had. Highlights in the morning include a session on how partnership opportunities with universities can be developed with attendees, and a crucial debate on the investment outlook for the UK and Europe. These will be followed by a discussion on the merging of PRS and Student Housing products to begin the afternoon.
Both events are likely to sell out so please book early to guarantee your place.
Follow LD Events on Twitter and LinkedIn to stay up to date with the latest industry news, opportunities and events.